How To Make Bath Time Fun For A Toddler
Every bath time seems to be a struggle, no matter what the age of your child. When evening comes around, you've had a long day and the last thing you feel like doing is fighting with your toddler. Yet every night it's the same thing. you know your kids aren't getting in the bath without a fight.
Here are 12 tips for to help make bath time fun for your toddler:
Use Non Slip Decals
This is particularly useful if you have more than one child. In order to keep the peace stick non-slip decals and create zones for each child. This will help avoid sibling fights.
Shaving Cream
Spray shaving foaming cream into a bowl, get a few paint brushes and let your toddlers have fun painting the walls (or their faces). It's safe and clean.
Limit Soap Usage
Take a normal hairband and twist it around the pump nozzle. This helps to avoid excessive liquid being pumped out by your child.
Laundry Basket
Use a laundry basket and place this in your bath. This is a cost-effective tip for younger toddlers. It helps make it easier for them to sit and keeps toys within their reach. Which prevents them trying to stand, walk and potentially slip in the bath.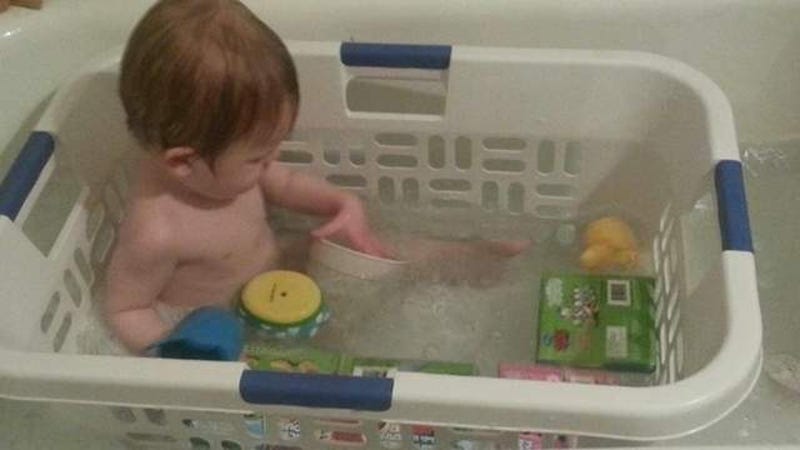 Glue Closed Bath Toys
Those bath toys with a hole. Glue them shut. Prevents mold building up.
Read this: Caution: Your Sophie the Giraffe Teether Might Just Be Full of Mold
Freeze Toys In Ice Cube Tray
This of this as the alternative, free option to those face clothes which expand when you place them in water. Take any small toys you have like animals and place them in your ice cube trays to freeze. Your toddlers will love watching them melt in the bath.
Water Bottles
Makes holes in a water bottle and watch your toddler love seeing the water pour out. A really cheap alternative to buying one.
Read this: Unbelievably Cool Products For Busy Kids