healthy lunch ideas for kids
My son was 2 when he started at his daycare and he was uneasy about it and so was I. He had never had much interaction with kids at all. Because he was the first grandchild on both sides of the family and we didn't have many friends with children. And so his lunchbox became a secret weapon to try and cope with the anxiety of starting 'school'.
For me…and for him. You will be surprised how much fun they are doing and how much little time they actually take.
Using a few different sandwich cutters bought online try to make it as fun, colourful and exciting as possible. The teacher at daycare has a theme for every week of the term which she lets the parents know about eg. "My pet", "autumn leaves", "teddy bear picnic" etc.. I try to make his sandwiches fit in with the theme. At the moment his tastes (for sandwich toppings) are very limited. Pretty much just peanut butter, fish paste and cheese. So shaping his sandwiches allow for a little variation while him and I are still learning what he likes.
I am fortunate that my son loves fruit and vegetables, so packing a healthy lunch he enjoys, although if you serve it to him the same way all the time, it becomes boring. So cutting it in different shapes and separating them in different little containers helps too. Choosing fruits that are in season is a little less painful on the budget, but try as best as possible to make sure you have a few colours in there. Try get two or more fruit and veg in every lunchbox.
As far as snacks go, it's best to vary. Try adding corn cakes, rice cakes, popcorn, pretzels, raisins, dried fruit, 'oaties' (dry cereals) or crackers. Sometimes nuts and if your child enjoys seeds (sunflower, pumpkin etc) as well as some trail mixes.
A typical school healthy lunchbox consists of:
A sandwich cut in a shape – this is the creative part
Two  or more different kinds of vegetables that have contrasting colours (eg, carrot, sugar snap peas, cucumber, cherry tomatoes, green beans. I use whatever combos look attractive) and make sure to cut them a few different ways…ie. sliced, julliene, spaghetti etc
Two or more different types of fruit that have different textures and colours
One kid size yogurt (Try select full cream that do not have too much sweetener and have interesting themes or characters on them)
Include something that is crunchy (popcorn, pretzels, crackers etc)
Add a little sweetness (real dried fruit dainties, fruit flakes, raisins etc)
A box/bottle of real fruit juice (although you can replace with vitamin juice – VITAFORCE JungleVites Vitamin Juice which can be purchased at most pharmacies, Clicks and Diskem stores)
So you're probably asking as a busy mom, where do I find the time to do it? The answer is…the night before. Having a two year-old and a 9 month old son doesn't give you much time to do anything. Not to mention having to leave to work at 6am and a husband who works out of the country. Leaving me often home alone with the both kids and my hands get full.
TIP: After getting your kids bathed, dressed, fed and in bed for story-time is the best time to settle in to do the lunch box.   SISTEMA has a great collection of lunchbox products. Like bento boxes and coolers, which are also BPA Free.
All his lunch gets packed in his lunchbox and little containers and put into his cooler (before I grab a quick pic of it to send for his dad to see). Also thanks to a label maker,  he has his name on most of it which they will also recognize and get excited about.
Your child will get to see what's inside their lunchbox and their reaction is priceless. This will help you keep motivated to continue making them every night. Your child will feel really excited for school and love to carry their cooler full of treats.
So even if your child gets a cooked lunch at school, at least his "snack box" is full and he/she will eat most of it at school and the rest when they get home. At our home we call it  "after school party" which my son very much enjoys.
Just remember each child is different, so you should tailor make lunch boxes to your own child's tastes. Every child has his/her own favorites and every mom knows what that is.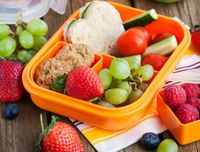 And before you think 'this mom has time on her hands' this is what I do:
I am a regular mom with a strange job … I'm a Tugboat Master (Ship Captain), and work 12 hour shifts (days and nights)… so my most convenient time is the evening for lunchbox time. Mom's need to find what time suits them best.
If you're interested in buying cutters you can go to Takealot.com