Reusable Nappies or Cloth Nappies have become increasingly popular. But you won't find them at your local grocery store. We've provided a list of online shops that you can purchase reusable nappies from.
There are many reasons to switch to cloth nappies, from both an economical and environmentally friendly alternative to disposables.
Bamboo Baby
Bamboo Baby offers parents an extensive range of Modern Cloth Nappies and accessories. You can choose from different absorbency rates, colours, styles, fabric and prices to meet all their baby's comfort needs.
What are the benefits to using cloth nappy vs disposable:
Cloth Nappies do not contain the chemicals and perfumes
Natural fibres such as cotton and bamboo allow your baby's skin to breathe
Nappy rash can be reduced greatly by using cloth nappies
Cloth saves you money, read here the cost analysis
Read this: How To Treat Baby Rash
Mother Nature Products
Mother Nature supplied Bamboo newest design, the AI3 nappy is a one piece, one size design that adjusts to fit from birth to potty training and any sizes in-between.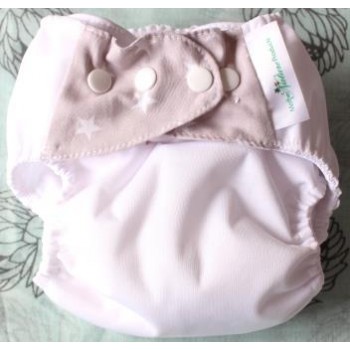 Snuggly Bum
No need to buy different sized nappies. One size fits all from 3kg – 15kg. There are poppers down the front for you to adjust the rise of the nappy in 3 different positions allowing the nappy to "grow" with your baby. Cloth pocket nappies have a pocket in which you place the super absorbent microfiber inserts. Our pocket nappies have a waterproof outer layer, so no need for a separate outer wrap and no need to cover that gorgeous nappy!
Bambino Mio
he award-winning miosolo is a simple, stylish and super soft all-in-one cloth nappy which is as easy to use as a disposable! The nappy is onesize meaning it will grow with your baby from birth to potty training. Onesize* nappy, allowing the nappy to grow with baby from birth through to potty training, eliminating the need to buy any more nappies. Unique pull out tab system makes removing the core from inside the nappy as simple as possible
Read this: How To Potty Train A 2 Year Old